It has been a long time since I updated this blog; drawing and plotting stories have been low on my list of priorities of late. I had expected some comics festival (like Comica Comiket) to be announced in April so I could go publicise and peddle my new comics there but nothing has appeared on the horizon before the summer, so there doesn't seem to be much incentive for me to plot a third issue of Cabaret Voltaire before the first two issues have mostly sold out.
Anyway I was browsing in Foyles just before Easter and to my surprise, found my book in the Staff Picks section.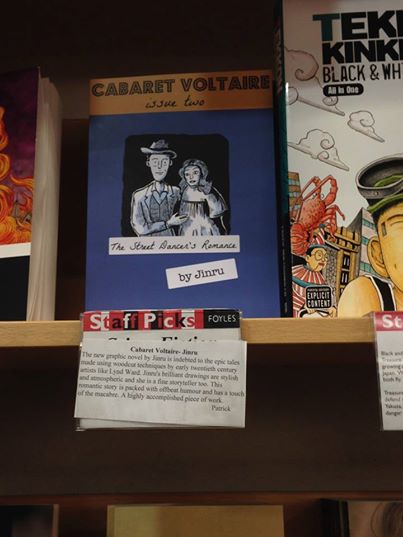 So I hope this will help in selling the remaining stock I have in Foyles.
Wordless comics may not be terribly de rigueur right now but I drew the book mostly for myself as an experiment in conveying a slightly more complex story without words, using mere expressions as well as the composition of each frame to tell the story. I suppose if I succeed in doing that, readers would not necessarily even notice. Again I've been using my favourite noir-ish, woodblock printing style of drawing to complement the story's anachronistic feel.
However, since the street dancer's actions in the end are unexplained and possibly inexplicable to some, the readers is free to impose his/her own interpretations on the story and the street dancer's motivations for his seemingly irrational choice.
Don't we all make irrational choices from time to time? He has chosen a fantasy, an ideal – or has he?
I will be away and abroad for the summer and so may not attend many comics festivals until the late summer or autumn. Am seriously considering the Thought Bubble this year in Leeds, if time permits.