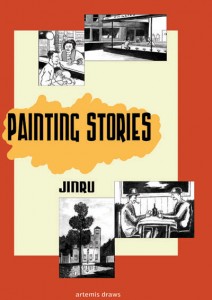 I should have written this entry earlier but too many things got in the way. First of all, after finishing the 6th and final story, I felt I finally had a reasonably substantial book to finally send off to a printer. But I didn't have a clue about publishing. Another time consuming project had got in the way of my drawing endeavours and I had not done the necessary ground work. A foray to the Laydeez Do Comics monthly social on the evening of the 19th provided me with a contact to use, and I dutifully emailed both the next day for quotes. It took a few days, an interminably long time when you're floundering and desperate for any sort of response, so I was very glad when one of them got back to me and that got the ball rolling.
So, in a nutshell, I don't have any illusions about getting a comics publisher interested in my work (it's true to say I haven't tried but then again that is against my diffident nature!) and I am self-publishing my first collection of short stories. Its working title was always "Painting Stories" but now the name has stuck, and "Painting Stories" it will be. I spent a morning designing a cover in Photoshop for  it, woe is me, design was never my strong point. But still, I think I came up with a 1950's retro-looking cover that may go well with the anachronistic stories within. I felt ready to be done with this project, so I did not want to spend too much time poring over the design and fretting over my lack of Photoshop skills. I do realise that some people may hate my cover, but you really can't please everyone…
The finished book is 96 pages long and will have an initial print run of 100 copies. I can't wait to see the finished product, which may be in my hands just after Easter if all goes well. I'll try to keep you posted, dear neglected blog.