Cabaret Voltaire issue two has been sent to the printers, just a little bit ahead of schedule, but my head was whirring with anxiety last night thinking of all the last minute things I had to do before I could hit the relevant buttons and upload the PDF files to InkyLittleFingers. Painstakingly preparing and checking the final A5 book itself, getting the PDFs of the inner pages and the outer cover ready used to be a fraught and stressful process as I was learning as I went along. This time it was surprisingly easy, as I now understood what 'bleeds' meant and how many millimetres to add to the cover artwork to prevent unsightly white edges in the final product. After tossing and turning for what felt like hours last night, wondering whether I should select 115gsm off-white recycled paper or a similar bleached white paper, this morning I awoke somewhat refreshed despite only 5 hours sleep, and pencilled in the new final frame that I felt should replace the rather shoddily-inked one of a few days ago.
I feel that one at least should finish with a bang and not a whimper.
The final inked page still suffers from a slightly misshaped brush (the new one from Cass Arts wasn't so good to start with!) but it is still better than the original version. Admittedly, I am a bit tired of drawing/inking and I suspect it shows.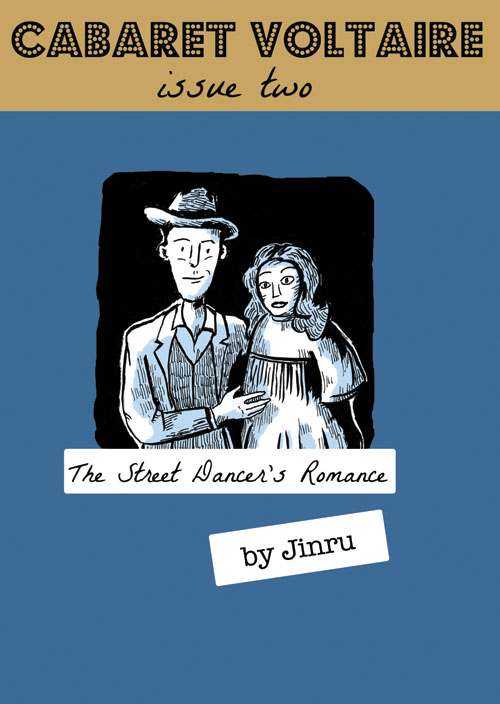 And this is the cover of the Cabaret Voltaire issue two – [edited post for colour correction] if all goes well, it will be ready in time for Christmas gifts. Place a pre-order by emailing me now, or wait a week or two for the relevant shopping links to appear on my website – just like magic! The book will be priced at £5.00, full colour cover and B&W illustrations inside. 90pp. I think when I get Foyles and possibly other shops to stock it, the price may well be slightly higher.