In the summer of 2009, after not having picked up a pen to draw for well over a decade, I decided to
embark on a project of drawing a short story around a well-known painting, using my ink rendition of
the painting as a panel around which to construct a story. I chose Cezanne's famous 'Card Players' to
plot my first story and it took me about two weeks to draw and write all ten pages of it. This project
eventually evolved to become the book 'Painting Stories' which I finally completed in early 2012.
It comprises 6 short stories based around six different paintings by artists as diverse as Paul
Cezanne, Edward Hopper, Vincent van Gogh, Pierre Bonnard, Edward Burra and René Magritte.

You can read The Snack Bar and The Dessert at the Stories tab above.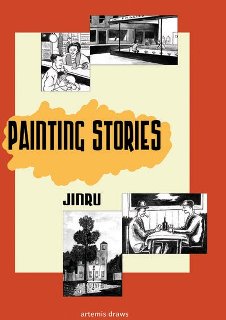 I also draw and write a periodical comic called "Cabaret Voltaire" which will have one or two short stories per issue. Buy these books in my shop.